BFA, MFA, National Match Gunsmith, Owner/Gunning Arts, Inc. Since 1977
Past Shop Forman & Rifle Gunsmith for the First Army Marksmanship Training Unit
Specialized Training:
Army National Match Firearms School, Rock Island, IL
Double Honor Graduate - One of only two in the school's history!
Beretta Armorer Training Program, Beretta, USA
Smith & Wesson Armorer Training Program, Smith & Wesson Firearms
Weaponeer Instructor / Operator / Maintenance Course, Spartanics, Ltd.
Sig Sauer Law Enforcement Armorer School, Sigarms, Inc.
Gunsmithing Course, North American School of Firearms
NRA Basic Firearms Education Instructor Course, NRA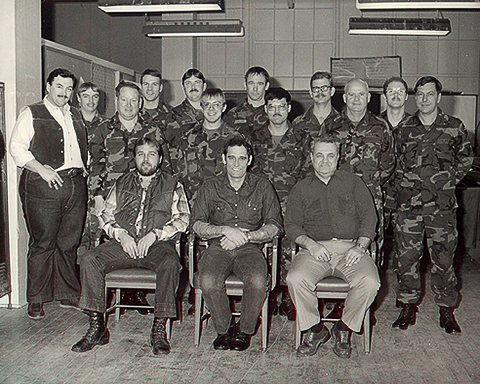 Rock Island National Match Rifle & Pistol School, January 1984. Charlie Maloney, standing on the left, the only civilian employee in the class. Seated center is Bruce Woodford, one of my earliest mentors and one of the best military gunsmiths I've ever had the pleasure to meet.