BFA, MFA, National Match Gunsmith, Owner/Gunning Arts, Inc. Since 1977
Past Shop Forman & Rifle Gunsmith for the First Army Marksmanship Training Unit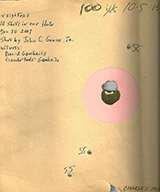 "Four sighters, then ten shots in one hole!!! Damn! Thanks Charlie!"
John C. Gonce, Jr.
"Maloney" M14, National Match
Charlie,
The M14 finally got here. It is a real beauty!
That laminated stock is stunning!
Your workmanship, the fit, and finish are first class!
Thank you so much for all your help with building the dream match rifle of a lifetime. Few people these days can produce such a functional work of art, and I am blessed to have had your help on this project. It has been such a pleasure to deal with a gentleman like you. Thank you so much!
Howard Plude
Hi Charlie,
I just wanted to let you know the rifle you built shoots beautifully. I won the Iowa State Garand Championship last weekend. I shot a 469-9. I started off with 3 Xs. I've been using PPU ball Garand ammo. I was going to try some match ammo, but it shoots pretty tight as it is. That trigger is outstanding.
Thanks again,
David C.
(e-mail upon request)
April 21, 2016
Charlie,
I managed to get to the range this weekend and shoot the M1A rifle you built for me. I started at 100yds from the bench using a sandbag rest to make sure I was on target and shoot some groups. After centering it up, I shot 3 five shot groups. They measured .580", .686", and .496". The average group size was .587" and this was with iron sights!
Then I went over to the 200yd range to shoot for zero's prone with a sling. Once I was in the 10 ring, I shot a 3 shot group that measured an astounding 1.274"!!! Made a sight change and the next shot split the X just below being a pinwheel, the next shot was just above it and was an almost perfect pinwheel X! Followed that with a couple more shots in the X ring and decided to stop shooting prone as the zero was as good as it ever gets. Finished up with a couple strings of sitting rapid with some really tight groups in the 10/X ring.
Great job Charlie! This one is a real shooter! Thank You!!
Steve Trent
dist1646@yahoo.com
Charlie,
I just wanted to drop you a note and thank you for the GREAT work you did on my M1A earlier this year. My purpose for having it re-barreled was the Springfield Armory M1A match that is held at Camp Perry the last few years. I had been shooting pretty well in those matches but just felt that the old barrel was not doing as well as I thought.
This year with the new barrel I won the match with a score one point off of the match record. You can see the results at http://www.nrahq.org/compete/natpdf/cp453-11.pdf
Once again, Thank You for making my old M1A like new again.
Bill Bowers
bill@bowerstire.net
Charlie,
Feel free to use as you wish. Bronze in 07, Silver 08, Gold in 09. All accomplished with the SUPURB garand you built for me. Thank you for the great work!
Doug Self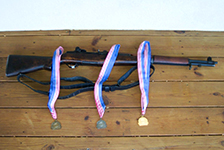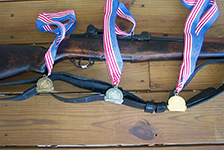 Charlie,
Bill Eggert here. Just wanted to thank You for the outstanding job You did on my M1 Garand. Sorry it took me so long to get back to You and Thank You for the great Job. You rebarreled, Supplied good wood and did some other fine tuning on an International Harvester M1 that one day will be my Grandons.
We have been working Loads and shooting some matches in the Buffalo NY area. (Yea I know, Long way to Go to Shoot. But I have a friend who has been holding charity matches for a Police Officer that died after being shoot and paralyzed. That's where I won the gun in the first place) Handed out the cards You gave me and also told several people about You. Hope it pains out to be some work for You.
After some break in and Load work and changing the Korean Gas Cylinder as You suggested I'm tearing up the targets. Thanks!!!
William "Bill" Eggert
Hi Charlie,
Thanks again for repairing my dads M1. I took it to the range and it worked well. Attached is a photo of a group I shot after getting it zeroed. Its at 200 yards shooting from the bench. The trigger job you did is awesome.
Thanks again!
Eric Brown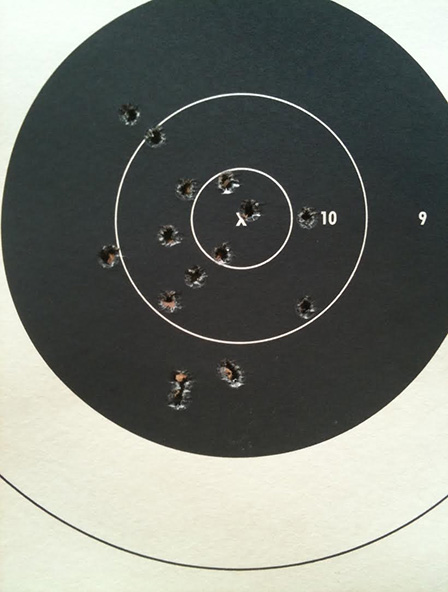 Hi Charlie,
Jake was home for spring break the other week and had his first opportunity to shoot his new Garand at a Vintage Military Match at our local club. For the first string of prone slow fire, he shot an fantastic 100-7X, a very impressive score. He and the gun really clicked! It's a beautiful rifle, and his score during the slow fire stage shows just how well put together it really is!
Mark Swierczek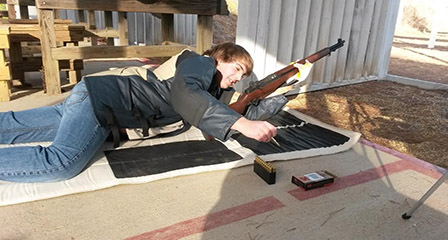 Hi Charlie,
Grandson Geoffrey Ely bagged a boar with the Garand I purchased from you. Rock Hill Hunting Preserve, Okeechobee Fl. Never thought that competition rifle would be used for hunting. LOL.
Tony Damico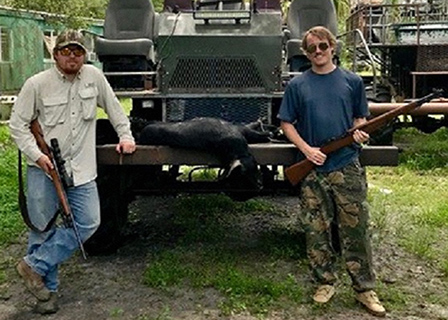 Hi Charlie,
Jake did well with it at Camp Butner, and the U.S. Army Reserve Marksmanship. Thanks again for an outstanding rifle.
Mark Swierczek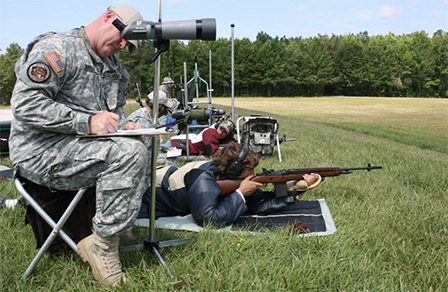 Hi Charlie,
My name is Eric Brown and you worked on my and my dads M1 Garands about 5-6 years ago. For the last two years I have gone to the CMP Eastern Games at Camp Butner, NC with my Garand and have achieved both bronze and silver medals. This year I used my dads rifle and shot a 277 worth a silver medal. The rifles worked perfectly. Thank you for your expert craftsmanship in making these rifles function as they were designed. They are excellent shooters. Its up to the operator to get the gold now.
I hope you are doing well.
Semper Fi,
Eric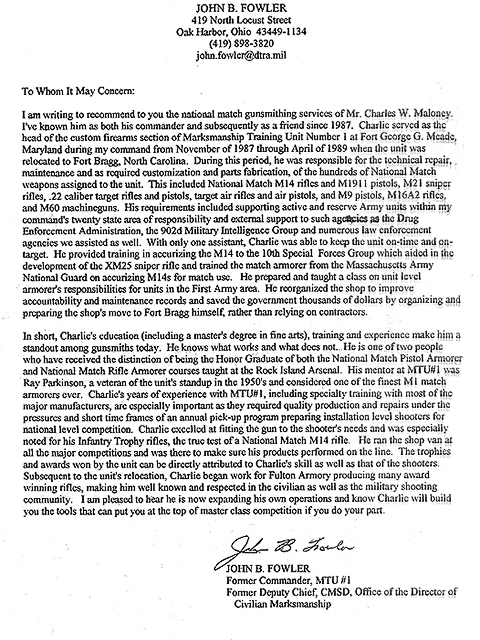 Charlie,
Thank you I went to the range the day after I picked up the Garand you did for me, and it shot GREAT! I was up early Saturday, and was at the range again when it opened. Shot so much, I can hardly lift my arms. So many people said it was the most beautiful Garand they ever saw. 2 comments of " That's the Best Garand I ever saw" I agreed! One person commented that it would easily fetch $2,500. "Yea if I were willing to sell it". Charlie - You took an old American War Horse trophy and made it a real Gem. Something I'll cherish for the rest of my days.
Thanks again.
Sincerely,
Tom Davis